CASA REALE Dazzles Digital World With The Launch Of Multilingual Website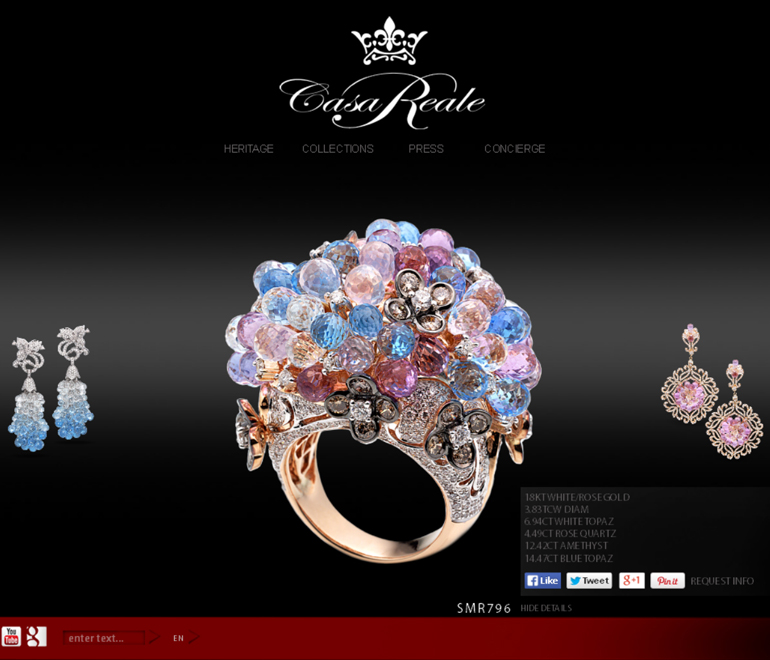 ---
CASA REALE Dazzles Digital World With The Launch Of Multilingual Website

April, 2014 (New York, NY) – Following an industry soft launch in 2013, CASA REALE in partnership with ARTYSO digital agency launched its new luxurious website (www.CasaReale.com).



The new website teases digital senses of international bohemian customers with animation

depicting the iconic history of royal houses around the world. Its elegance and multilingual features represent cultural inspiration emerged from rich family ancestry dating back to the great cultural melting pot of the Silk Road, where Alexander the Great and Marco Polo once walked and exotic jewels were traded.

"We wanted to wow our customers and share our passion for jewelry, and that's exactly what ARTYSO's creative team delivered. Our website visitors feel as if they are touching the

dazzling breadth of diamonds and gemstones handcrafted in one of a kind crown jewels." shared President of CASA REALE, Mr. Joseph Yushuva.

The website was built with the latest responsive technologies and multi-lingual support that intelligently adopt to the user's devices and languages. "The newly designed website elegantly interlinks feature-rich functionality with bohemian feel. Innovative integration of geo location-to-language features allows visitors across the globe to explore and interact with CASA REALE world in their own native language." states Andrew Max Link the CEO of ARTYSO.

"We are focused on creating one of a kind pieces of jewelry that are inspired by some of the most influential and beautiful women from historical monarchy. In 21st Century our web experience should communicate the same values. We are happy that we accomplished such wonderful results with our long term technology partner ARTYSO" says Joseph Yushuva.
ABOUT CASA REALE:
CASA REALE was founded in 2013 by Joseph Yushuva, founder and partner in jewelry manufacturer JPM Brothers since 1996, known throughout the jewelry industry as a leader in production of exquisite fashion jewelry. Joseph's expertise and connections led to the creation of CASA REALE, a signature fashion jewelry brand crafted to be a bold statement in luxury and royal artistry.

Casa Reale has been sold internationally in some of the world's most renowned jewelers in the United States, Dubai and Moscow and has been worn by both royalty and celebrities. The designs of CASA REALE are crafted to be a statement in luxury and glamour, unmistakably creative and made for the woman who is bold, confident and loves to be noticed. For more information please log on to
www.casareale.com

About ARTYSO:
ARTYSO is the full service online agency and
leading industry innovator specializing in website design, development, digital advertising & marketing for the jewelry and diamond companies. Its websites for diamond and jewelry brands, eCommerce projects and B2B portals already won more than 30 international awards for the roster of prestigious clients.
www.ARTYSO.com
Contact:
Kate Vinogradova
ARTYSO
Media Coordinator
kate@artyso.com
O: 212-643-4310